Spacecraft karaoke is a karaoke and DJ experience wrapped into one. As soon as a singer is done singing, a DJ song kicks in. The party never stops. Sing, dance, or sit back and watch the shenanigans!
We provide:
A fun DJ/host to run the show.
Video screen for song lyrics.
Sounds system with 2 mics for singers.
Online listing of karaoke selections.
15,000+ song karaoke library – including all popular genres and new songs added regularly.
DJ music between singers.
Popular upgrades:
A large screen facing the audience for them to sing along.
Recordings of performances.
Instruments for people to play along with singers.
More microphones for songs involving more than two singers.
Wireless instead of wired microphones.
A laptop or iPad for singers to browse our library.
Stage or party lighting.
Karaoke contests or games with prizes.
Some additions that can take your karaoke event to the next level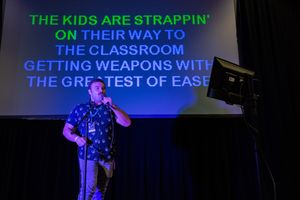 Large Video screens
Make it a real rock concert when the audience can sing along!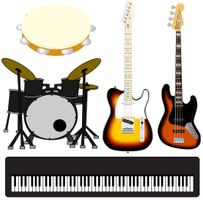 Instruments to play with singers
From drums and guitars to tambourines to keyboards, let us know if you want to get the band together.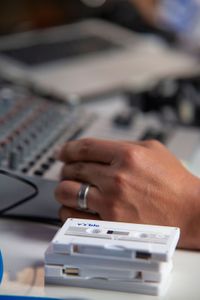 Recording karaoke performances
We can do audio or video recording to make sharing on social media super easy.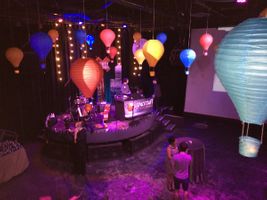 Multiple karaoke rooms
We can set up in several spaces to everyone gets a chance to sing!